Vibrant Shea Co. New Golden Shea Butter 
In West Africa there is a tree that has been used for centuries to make teas and topical preparations that will help detox and heal inflammations. The tree is called Borututu Tree, and is what gives Golden Shea Butter its naturally beautiful color!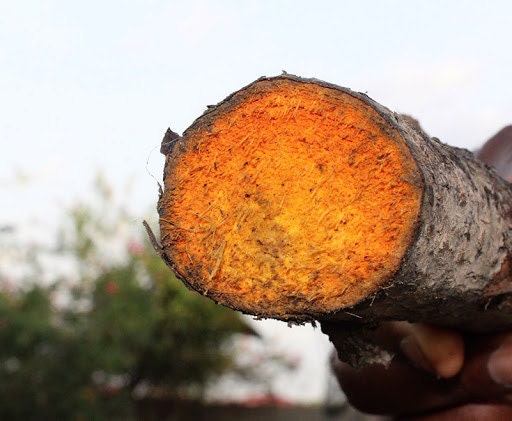 Skin-Loving Benefits
Borututu Root is a potent antioxidant that is employed to combat the harmful free radicals in our bodies. At the same time, the bark of this tree helps to cleanse and detoxify the body. When used topically, it is effective for treating skin problems. The yellow/orange core you see above is shredded and added to the boiling step of shea butter production, and the result is a shea butter that has a pretty bright golden color, and infused with incredible antioxidants and extra healing elements compared to ivory shea butter.
High in skin-loving vitamins A, E and F
Reduces Inflammation
Heals infection, sores and skin problems
Fights skin aging with rich antioxidants
Vibrant Shea Co. proudly partners with Sulugu Shea Butter Village to source our natural West African Shea Butter traditionally formulated to retain all the holistic properties which makes Shea Butter so healthy for your hair and skin.
Try Vibrant Shea Co. Golden Whipped SheaClay featuring African Borututu Root today! Click to shop. 💚
 Be well,
Gianna
Founder, Artisan
Vibrant Shea Co.